Latin American Conference Biotherapeutic Medicines: Sharing Experiences and Best Practices
Date
19 Nov - 20 Apr 2013
Location
Sonesta Hotel El Olivar
Attend
This event has now passed. To browse our upcoming events click here.
Two day workshop which joins health authorities representatives and biopharmaceutical industry experts from different regions to discuss the key aspects of biotheraupeutic medicines, regulatory pathways for biotherapeutic medicines and biosimilars; quality aspects of development; comparability and similarity exercises; preclinical and clinical data; immunogenicity; pharmacovigilance and safety tracking, and interchangeability.
Speakers
Raffaella Balocco Manager of the International Nonproprietary Name (INN) Programme – Department of Essential Medicines and Health Products, World Health Organization
Raffaella Balocco is Manager of the International Nonproprietary Name (INN) Programme at the World Health Organization since 2001.
Prior to this position, from 1992 to 2001, she worked in the regulatory support Unit within WHO and travelled around the world, in particular in EMRO (Eastern Mediterranean Region) and AFRO (Africa) Countries. She also worked at the "Mario Negri Institute for Pharmacological Researches" in Milan.
Hugo Carrasco Soulé Full Professor-School of Law, Universidad Nacional Autónoma of México, member of the National System of Researchers of CONACyT, and Legal Counsel of Janssen México
Hugo Carrasco Soulé is Full Professor, School of Law, UNAM, member of the National System of Researchers of CONACyT and Legal Counsel of Janssen México. He obtained both his Master's Degree and his PhD from the School of Law of Universidad Nacional Autónoma de México. He followed specialization courses in European Community Law and in Private International Law at the University of Salamanca, Spain. He took higher and advanced studies at the same University of Salamanca, within the PhD program: Law, Economics and Society of the European Union The School of Law of UNAM has distinguished him on three occasions with the special Chair "José Castillo Larrañaga" and with the medal to academic merit "Ignacio L Vallarta" In the editorial field, he is coordinator of the collective work "Intellectual Property and Pharmaceutical Research"
Gilberto Castañeda-Hernández Professor of the Pharmacology Department of the Center for Research and Advanced Studies, Instituto Politécnico Nacional of Mexico
Gilberto Castañeda-Hernández is full Professor of the Pharmacology Department of the Center for Research and Advances Studies, Instituto Politécnico Nacional of Mexico, where he has been working since 1984. In 1983, he obtained his PhD summa cum laude in Pharmacology from the Catholic University of Leuven, Belgium. He has been President of the Mexican Pharmacology Association and of the Western Pharmacology Society. He is member of the Mexican Academy of Sciences, of the National System of Researchers of Mexico and of the Clinical Pharmacology Council of the International Union of Pharmacology.
Barry Cherney Executive Director of Product Quality – Amgen
Barry Cherney joined Amgen in April 2012 as an Executive Director of Product Quality. He leads a team overseeing product quality for a number of Amgen's programs.
Prior to this, from 1991, he worked at the CBER, FDA as a Senior Staff Fellow in the Division of Hematological Products. During his 21 years in the FDA, he held positions as Research/Reviewer; Expert Biologist; and Deputy Director of the Division of Therapeutic Proteins. In this capacity he was responsible for approval of CMC sections of license applications and supplements.
Malin Fladvad Section Manager, WHO Drug Dictionaries Production - Uppsala Monitoring Centre
Malin Fladvad joined the Uppsala Monitoring centre (UMC) in 2010. At UMC, Malin is Head of WHO Drug Dictionary Production, managing maintenance and development of WHOs comprehensive sources of medicinal product information. Before coming to UMC, Malin worked with quality related issues of Biotherapeutics in a Pharmaceutical company in Stockholm. Malin received her PhD in Medical Biophysics from Karolinska Institute, Sweden, with her doctoral research focusing on structure and function of cancer inducing proteins.
Laura Gomes Castanheira Head of Safety and Efficacy Evaluation, Anvisa
Laura Gomes Castanheira holds a pharmacy and biochemistry degree, and a master's degree in Immunology, both by the University of Ouro Preto, Brazil. Ms Castanheira has been working in Anvisa since 2005. She is the head of the Safety and Efficacy Evaluation Office since 2009. This Office is responsible for new drugs and biologicals licensing, clinical trials authorization and GCP inspections. From 2007 to 2009, she was coordinator of biological products in the Safety and Efficacy Evaluation Office in Anvisa. From 2005 to 2007, she was an expert responsible for biologicals marketing authorization review. During these years, Ms Castanheira represented Anvisa at several meetings and workshops related to biologicals, clinical trials and regulation in WHO, ICH, PAHO, DIA, etc.
Ubier Eduardo Gómez Calzada Professor of Pharmacology and Toxicology, University of Antioquia and University CES of Medellín, Antioquia, Colombia
Ubier Gómez is clinical toxicologist from the University of Antioquia where he has been working as a Professor since the year 2000. He is Toxicologist at Hospital San Vicente Fundación of Medellín and he has been member of the Ethics Committee of the same institution. He was awarded the distinction « Teaching Excellence » as the best professor in the Area of Health of the University of Antioquia in 2006 and 2011. He holds a degree in Pharmacoeconomics from the University Jorge Tadeo Lozano and in Health Management from the University of Sabana. He has published more than 70 articles in the fields of pharmacology and toxicology. He has been president of Asociación Colombiana de Toxicología Clínica (Colombian Association of Clinical Toxicology). He has given several lectures and educational activities in many countries of Central America and South America in the area of biologicals and subsequent-entry biologicals.
Susana Gorzalczany Professor - Faculty of Pharmacy and Biochemistry, University of Buenos Aires, Argentina
Susana Gorzalczany has been dedicated to pharmacology teaching for over 25 years as Professor of Pharmacology at the Faculty of Pharmacy and Biochemistry, University of Buenos Aires, Argentina. She is Pharmacist and Biochemist and PhD in the area of pharmacology. She serves as vice director of career in the pharmaceutical industry specialization: Development area and Quality Assurance. As Director, she is in charge of postgraduate courses "Biopharmaceuticals drugs: the complexity in clinical uses and quality assurance" and "Biological assay for drugs, chemicals and cosmetics". She has several peer-reviewed publications in international journals of pharmaceutical science and she has the honor to serve as reviewer for some of them. She specializes in the preclinical evaluation of drugs using animal models to analyze both pharmacological and toxicological aspects.
Gino Grampp R&D Policy Director, Amgen
Gino Grampp is a Director of R&D Policy at Amgen, where he leads external affairs related to biosimilars in the United States. Prior to this role, he was a member of Amgen's regulatory policy function assessing and advocating for science-based implementation of biologics policies. In this capacity he was also responsible for worldwide regulatory agency interactions, technical strategy and submissions related to Amgen's biosimilars development program.
Before his engagement on biosimilars, Dr. Grampp led manufacturing process development teams responsible for development and technology transfer of biologics processes for several of Amgen's novel biologic medicines into manufacturing sites around the world. He also managed quality professionals providing technical and strategic oversight to both pre and post-approval commercialization projects including numerous comparability exercises.
Dr. Grampp earned his bachelor's degree in Chemical Engineering at the University of Wisconsin and a Ph.D. in Chemical Engineering from the Massachusetts Institute of Technology.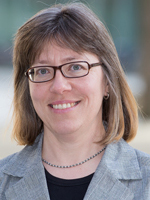 Karin Heidenreich Director Public Policy R&D with Novartis International AG
In her function Dr Heidenreich advocates the corporate Novartis policy on biosimilars in working groups of various pharmaceutical trade associations, such as IFPMA and EBE, as well as in discussions with international organisations, like WHO and EMA. Dr Heidenreich has been working with Novartis for many years in different functions in Clinical Research, Drug Regulatory Affairs and Public Affairs in Germany, Belgium and Switzerland. She holds a diploma and PhD in biology from the Diabetes Research Center at the Heinrich-Heine-University of Dusseldorf in Germany. She also has a master degree in Drug Regulatory Affairs of the Friedrich-Wilhelm-University of Bonn, Germany.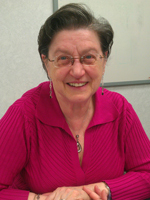 Agnes V. Klein (participation via Video) Director, Centre for the Evaluation of Radiopahrmaceuticals and Biotherapeutic Products in the Biologics and Genetic Therapies Directorate
Agnes Klein received her medical degree from the University of Toronto. She trained in Endocrinology, Medical Biochemistry and Public and Community Health. She joined Health Canada and the Drugs Directorate in late 1974 and has occupied many and varied scientific and management positions within Health Canada and its regulatory arms, both on the pharmaceuticals and the biologics side. Amongst relevant accomplishments, Dr. Klein represented Health Canada on NCBHR and NCEHR and chaired the Committee on Clinical Trials of the Council.
Dr. Klein's special interests include the appropriate design of clinical trials and the various and complex ethical issues attendant to the design and conduct of clinical trials and other studies in human subjects. Dr. Klein just completed serving as a member of Health Canada's Research Ethics Board; she was a member of the board for about 10 years and continues to be consulted on many related issues. Dr. Klein was an active participant in the CIOMS document on Pharmacogenetics and Pharmacoeconomics as well as member of the expert working group for ICH E-15 and ICH E-16.
More recently, Dr. Klein has been active in the area of biosimilars (Subsequent Entry Biologics [SEBs]) and has made many presentations and various aspects of this subject.
Dr. Klein is an active member of several medical and scientific organizations nationally and internationally.
Dr. Klein has received the Outstanding Service Award from DIA as described below: The DIA Outstanding Service Award is given to recognize those individuals who consistently, through their volunteer efforts, have made contributions to the DIA mission and vision over the past several years. These individuals have exceeded expectations in their volunteer activities with DIA.
In 2012, Dr. Klein received the Queen's Diamond Jubilee Medal for Services rendered to the Health of Canadians.
Maurice (Mo) Mayrides Director, Policy and Programs, Esperantra
Mo Mayrides is a global health policy and government affairs professional based in Lima, Peru, and is Director of Policy and Programs for Esperantra, a patient-based non-profit organization. The mission of Esperantra is to contribute to the reduction of cancer mortality in Peru, improve the quality of life of cancer patients, and advocate for equality in access to quality treatments and to innovative care. Prior to Esperantra, Mr Mayrides did several years of consultant work with clients on strategic approaches to shape health policies and advocacy campaigns in Latin America. Prior to moving to Peru, Mr Mayrides worked to build international alliances for the Pharmaceutical Research & Manufacturers of America (PhRMA) in Washington, DC, and while there helped design and implement the research-based pharmaceutical industry's Global Health Progress (GHP) initiative. GHP is a clearinghouse for information, a platform for partnerships, and a means for advocating for private sector-generated solutions to emerging market and developing world health care challenges. Mr Mayrides also served as public policy director for the Asthma & Allergy Foundation of America (AAFA), a patient advocacy group, handling legislative and regulatory affairs as well as the foundation's advocacy and research programs. Before that, Mr Mayrides was regulatory and legislative affairs director for the American Society of Hematology (ASH), a medical specialty society representing blood disease physicians and scientific researchers. Mr Mayrides received his MBA from the Johns Hopkins University Carey School of Business and his BA in Political Science and Spanish from Gettysburg College.
Fabiola Muñoz Espinoza Chemist Pharmacist, University of Chile
Fabiola Muñoz Espinoza has been working since 1977 at the Public Health Institute (Instituto de Salud Pública) of Chile, in the Agencia Nacional de Medicamentos (ANAMED) (Drug Regulatory Agency), in charge of the assessment of application dossiers for the licensing of New Pharmaceutical Products. She was also responsible for the Preparation of Technical Reports and, at present, she is the head of New Pharmaceuticals Evaluation Committees. She has followed specialization courses in Pharmacology, Design and Evaluation of Clinical Studies, Epidemiology, Pharmacovigilance, Risk Management Plan Analysis and Periodic Safety Update Reports, Good Clinical Research Practice (GCRP), Evidence-Based Medicine (EBM) and Biological and Biotechnological Medicinal Products. In 2011, she participated in the preparation of the Proposal for «TECHNICAL STANDARD FOR THE LICENSING OF BIOTECHNOLOGICAL PRODUCTS RESULTING FROM DNA RECOMBINANT TECHNIQUES» and she is member of the Group on Biologicals of ANAMED. Since 2011, she has been the representative of Chile to the Pan American Network for Drug Regulatory Harmonization (PANDRH), as alternate member of the Andean Community in Biotechnological Products.
Renato Murillo University of Costa Rica
Dr. Renato Murillo has his Degree in Chemistry at the University of Costa Rica and Doctoral Studies at the Technical University of Berlin, Germany. His research has been based on the elucidation of structures of compounds from plants and microorganisms with medicinal biological activities by using Nuclear Magnetic Resonance techniques (NMR) and Mass Spectrometry and the computer simulation of interactions between different compounds and its target proteins. His research has been funded by the German Academic Exchange Service (DAAD), the Volkswagen Foundation, the Florida Ice & Farm Foundation, the German Ministry for Education and Research and the European Union. His works have been presented at various conferences (Chicago, Regensburg, Salerno, Vienna, New York City) and have been published in prestigious international journals (Phytochemistry, Journal of Natural Products, Planta Medica, Journal of Medicinal Chemistry, Chemical & Biology, Pharmazie, Journal of Pharmacology, Bioorganic & Medicinal Chemistry, Apoptosis, Helvetica Chimica Acta, among others). In 2003 he received an award from the Academy of Sciences for the Third World (TWAS / CONICIT) for young scientists. In 2011 he organized the seminar "Biotechnology Medicines, Biosimilars and Regulatory Aspects" at the University of Costa Rica. Since 2006 he has given a course in Nuclear Magnetic Resonance of Natural Products for the Pharmaceutical Biotechnology Institute of the Albert-Ludwigs-Universität Freiburg (Germany) for undergraduate and graduate students in Chemistry and Pharmacy. Also since 2006 has been dedicated to quality and regulatory aspects of biotechnology drugs and biosimilars, for which he has lectured in many countries of Central and South America. He is currently Professor at the School of Chemistry, University of Costa Rica and member of the Centre for Research in Natural Products and National Center for Biotechnological Innovations.
Carlo Pini (participation via Video) Head of the National Center for Immunobiologicals Research and Evaluation – Istituto Superiore di Sanità (Italy)
Carlo Pini is Head of the National Center for Immunobiologicals Research and Evaluation at the Istituto Superiore di Sanità (Italy). In this capacity, his main responsibility is ensuring that all the activities carried out by the Center follow ISO 17025 (laboratory testing) and ISO 9000 (dossier evaluation for most biologicals and immunobiologicals). He also serves as the AIFA nominated member within the EMA Biologics Working Party; as Expert of the Italian Working Party on Quality and Safety of Cell Therapy Products; and as Chair of the Expert Group on Allergens within the European Pharmacopoeia.
Carlo Pini has a long standing career within the Istituto Superiore di Sanità, and has served as Professor and Visiting Professor in several universities. He holds a degree in Biological Science and a PhD in General Pathology.
Fermin Ruiz de Erenchun F.Hoffmann-La Roche
Fermin Ruiz de Erenchun studied Medicine in the University of Navarra (Pamplona, Spain). After finalizing his specialty in dermatology, and obtaining a doctorate from the University Clinic of Navarra, he joined Hoffmann La Roche's Spanish office where he worked during 6 years in medical affairs. In 1999 he moved to Roche's corporate headquarter in Basel (Switzerland), and since then the he has work in different global, regional and national roles in global medical affairs and lifecycle management. Between 2008 and 2010 he was General Management of Roche Peru in Lima. He has contributed and lead teams involved in the development, registration and commercialization of multiple biopharmaceutical products in the area oncology and inflammation. Now he is leading special projects on biologics at Hoffmann La Roche in Basel, Switzerland. During the last 3 years, he has been engaged in meeting with National Regulatory Agencies in Europe and around the world to discuss and contribute to the implementation of biosimilar pathways, and has been invited to present at different conferences, including DIA biosimilar meeting in Washington, September 2012, and in Dublin in November 2013. Since 2011, he is the chair of the biotherapeutic group at the International Federation of Pharmaceutical Manufactures & Associations (IFPMA) in Geneva, Switzerland.
Thomas Schreitmueller Global Lead for Regulatory Policy for Biologics – F. Hoffmann-La Roche
Thomas Schreitmueller is Global Lead for Regulatory Policy for Biologics at F. Hoffmann-La Roche. In this capacity he represents his company in various WHO; ICH; IFPMA; EFPIA; EBE; and BIO-biotech working groups. He is also a member of the Organizing Committee of the CMC Strategy Forum Europe.
Prior to this position, he led the "Analytical R&D and Quality Control Biotech Products" department at F. Hoffmann-La Roche, where he was responsible for basic analytical research in the context of biotech products, including analytical development and quality control aspects. He holds a diploma and PhD in Biochemistry from the University of Munich and has delivered lectures on biotechnology related all over the world.
Elki Sollenbring Education & Training specialist, Pharmacovigilance Department – Uppsala Monitoring Centre
Elki is a member of the Training, Education and Consulting team (TEC), which is a part of the Pharmacovigilance Services department. She coordinates, delivers and develops pharmacovigilance training.
Apart from this, Elki works with PV consulting towards Latin America, Caribbean and some European countries. Elki has a Master of Science in Pharmacy from Uppsala University. She joined the UMC as a staff member of the WHO Drug Dictionary team in 2005. In 2009 she started work within the Pharmacovigilance Services department.
Hans Vásquez Member of PANDRH Biotech Group, DIGEMID, Ministry of Health, Peru
Hans is a physician specialized in Public Health and Epidemiology from Universidad Peruana Cayetano Heredia. He has been working at the ANM of the Health Ministry since 2005. Up to 2009, he has been reviewer of clinical trials and has coordinated vaccine pharmacological activities. Since 2009, he has been working as clinical reviewer of new medicines and biologicals, and he has also coordinated new regulations on biotechnological products. He is a member of the PANDRH Working Group on Biotechnological Products since 2011. At present, he is involved in several national and international initiatives on the regulation of clinical trials and of biotechnological products.
Jian Wang Chief, Clinical Review Division- Haematology/Oncology in Biologics and Radiopharmaceuticals Evaluation Centre, Biologics and Genetic Therapies Directorate, Health Canada
Jian Wang received his MD from the Harbin Medical University, China, and PhD in Physiology from the University of British Columbia, Canada. He joined Health Canada in 1996 with many years of scientific and clinical research experience in both academic and clinical settings. He has considerable regulatory and clinical experience in biological drug development and clinical studies.
Currently, he is the chief of Clinical Review Division in Centre for Evaluation of Radiopharmaceuticals & Biotherapeutics, Biologics and Genetic Therapies Directorate, Health Canada. His division has regulatory responsibility, including pre-submission consultations and premarket reviews, over the biological drugs for haematological, oncological, infectious, cardiovascular and renal diseases. Radiopharmaceuticals, gene therapies, subsequent entry biologics (biosimilars) and therapeutic vaccines are also regulated by his division. He manages a review team that consists of scientists and physicians. In addition to providing pre-submission consultations to drug manufacturers, and making pre-market regulatory recommendations to the senior management, he actively participates in various Health Canada, ICH, WHO and PAHO working groups and expert committees.