The Annual IFPMA Reception on the occasion of the 65th World Health Assembly
Location
Intercontinental Hotel
Attend
This event has now passed. To browse our upcoming events click here.
IFPMA held its Annual Reception during the World Health Assembly with the theme of 'Putting Children at the Heart of the Decade of Vaccines.'
Andrew Jack from Financial Times moderated a panel discussion including representatives of Sanofi Pasteur, WHO, Tanzanian Ministry of Health, and the Decade of Vaccines Collaboration. A special message from the Burkina Faso Minister of Health was also read.
For more details, contact IFPMA Secretariat.
Tel: +41 22 338 32 00
Fax: +41 22 338 32 99
E-mail: admin@ifpma.org
Speakers
Mr. Andrew Jack Pharmaceuticals Correspondent , The Financial Times
Andrew Jack writes about health and pharmaceuticals for the Financial Times. He was previously Moscow bureau chief, Paris correspondent, financial correspondent, general reporter and corporate reporter.
He is author of the books Inside Putin's Russia and The French Exception; has written numerous articles for medical journals including BMJ and the Lancet; and reports on French Insurance, Audit Committees, Networking and Work Shadowing.
He led the FT's coverage that won it the communications award of the American Society of Tropical Medicine and Hygiene in 2011; First Prize in the Stop TB Award for excellence in reporting for 2010; and a Kaiser Family Foundation mini-fellowship in global health reporting in 2008.
He has won the Grand prix de l'association des anciens élèves du centre des hautes etudes d'assurances, the ACCA accountancy journalist of the year award, and was a member of an FT team winning the British press awards.
He is co-chairman of Pushkin House, a London-based centre for Russian culture.
Dr. Flavia Bustreo Assistant Director-General - Family, Women's and Children's Health, WHO
Dr. Flavia Bustreo was appointed Assistant Director-General for Family, Women's and Children's Health on 1 October 2010. At World Health Organization (WHO), she served as Deputy Director and then Director of The Partnership for Maternal, Newborn & Child Health from 2006 to 2010. In 2004-2005, she served as Interim Deputy Director of the Child Survival Partnership.
Dr. Bustreo's work has focused on policy development concerning child and maternal health, policy implementation and partnership-building with a wide range of stakeholders. In 2010, she led the development of the United Nations Global Strategy for Women's and Children's Health. In 2008, she contributed to the High Level Taskforce on International Innovative Financing for Health Systems and in 2005, to the UN Taskforce on Millennium Development Goals (MDGs) 4 & 5 to reduce maternal and child mortality.
Dr. Bustreo has worked in several countries, including assignments for WHO country and regional offices in Bangladesh, Brazil, China, Egypt, India, Morocco, Peru, the Philippines, Senegal, Sudan and Uganda. She has also served at WHO's EURO office in Copenhagen, headquarters in Geneva, at the World Bank and as a special advisor to the Norwegian Prime Minister's Initiative for MDGs 4 & 5. She has published numerous academic and popular articles in the field of public health, women's and children's health.
Dr. Bustreo earned a degree in medicine with honors and a postgraduate qualification in rehabilitation medicine from Padua University, Italy, and later obtained a M.Sc. in Communicable Disease Epidemiology from the London School of Hygiene and Tropical Medicine. She has worked as a clinician with children and adolescents with disabilities, and with NGOs working with refugees in the former Yugoslavia and Iraq. Dr. Bustreo speaks English, French, Spanish, Portuguese and Italian and has studied Russian and Arabic.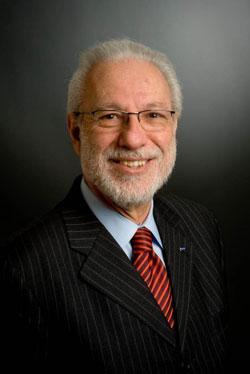 Dr. Ciro de Quadros Executive Vice President, Sabin Vaccine Institute
Before joining the Sabin Vaccine Institute in 2003, Dr. de Quadros was Director of the Division of Vaccines and Immunization at the Pan American Health Organization. He also served as the World Health Organization's Chief Epidemiologist for the Smallpox Eradication Program in Ethiopia from 1970 to 1976.
Dr. de Quadros is a leader in the development of successful surveillance and containment strategies for the eradication of smallpox worldwide, and has directed successful polio and measles eradication efforts in the Americas.
Dr. de Quadros serves as Associate Adjunct Professor at the Johns Hopkins School of Hygiene and Public Health in Baltimore, MD and an Adjunct Professor in the Department of Tropical Medicine at The George Washington University School of Medicine and Health Sciences in Washington, DC. He completed his medical and public health studies in Brazil.
Dr. Ariel Pablos-Méndez Assistant Administrator for Global Health, USAID
Dr. Ariel Pablos-Méndez is Assistant Administrator for Global Health at the U.S. Agency for International Development (USAID), a position he assumed in August 2011. Nominated by President Obama in March, Dr. Pablos-Méndez joined the USAID leadership team with a vision to shape the Bureau for Global Health's programmatic efforts to accomplish scalable, sustainable and measurable impact on the lives of people in developing countries as envisioned in President Obama's Global Health Initiative. In his capacity as Assistant Administrator for Global Health, he will focus his efforts to further advance the goals and reformatory recommendations expressed in the Presidential Policy Directives, Quadrennial Diplomacy and Development Review, and USAID Forward. By fostering new working relationships and maintaining existing partnerships, Dr. Pablos-Méndez will direct the Bureau's activities and approach toward a standard of technical excellence in implementation science.
Dr. Pablos-Méndez is an experienced public health physician who most recently served as Managing Director at The Rockefeller Foundation where he led the Foundation's global health strategy on the transformation of health systems in Africa and Asia. He first joined the Rockefeller Foundation in 1998, spearheading public-private partnerships in research and development for diseases of poverty, the Foundation's strategy on AIDS care in Africa, and the Joint Learning Initiative on Human Resources for Health. He also served as Director of Knowledge Management at the World Health Organization (WHO) in Geneva, where he established WHO's first eHealth unit.
Dr. Pablos-Méndez is a Board-certified internist and until recently was practicing as a Professor of Clinical Medicine and Epidemiology at Columbia University. He has served in various Boards and international commissions and received his M.D. from the University of Guadalajara's School of Medicine and his MPH from Columbia University.
Dr. Michael Watson Vice President Vaccination Policy, Sanofi Pasteur
Michael Leads Sanofi Pasteur Vaccination Policy team that is responsible for the interface between Sanofi Pasteur and Global and Regional Governmental and Non-Governmental Public Health organisations involved in immunisation Policy, Funding, Financing and, Implementation, Advocacy and issue resolution. He is Chair of the Sanofi Pasteur HIV steering committee, chair of the Vaccines Committee of the International Federation of Pharmaceutical Manufacturers Association (IFPMA) and leads the Pandemic Influenza Preparedness Group of the IFPMA. He is on the Board of the European Vaccines Manufacturers and the Steering Committee of the New York Academy of Sciences Vaccines Group.
He is a UK trained physician who led the teams that developed and licensed Pediacel® in the UK and Gardasil® in Europe. He has worked on most classes of vaccines, including Hexavalent infant vaccines.
He was previously Head of R&D at the UK Biotech company, Acambis PLC, until it was acquired by sanofi pasteur. At Acambis he oversaw the licensure of the smallpox vaccine ACAM2000®, the R&D of Chimerivax® based vaccines against Japanese encephalitis, and West Nile Fever, an M2e universal Influenza vaccine, ACAM-FLU-A™, and the worlds most advanced C. difficile vaccine, as well as a number of pre-clinical stage projects including an HSV-2 vaccine and a number of innovative new vaccine delivery platforms.
He is currently part of the team working on Sanofi Pasteur's Dengue vaccine for which the first efficacy results will be available later this year.