Universal Health Coverage: Moving Together, Stronger Together
Authors
Fumie Griego Deputy Director General and Chief Operating Officer

Githinji Gitahi
Share
Topics
This blog was originally published on Health Policy Watch on 7 June 2019.
The first-ever United Nations High-Level Meeting (UNHLM) on Universal Health Coverage (UHC), scheduled for 23 September 2019, will soon be upon us. The sense of urgency in preparing for this historic milestone in achieving global health progress was palpable during the World Health Assembly (WHA). There is no lack of often passionate views about what should be included in the UHC political declaration this September in New York. At the IFPMA-hosted WHA side event, "Universal Health Coverage: Moving Together, Stronger Together," the aim was to dive deeper in a more holistic and probing way and thereby challenge ourselves to find solutions to accelerate progress. We had a high-energy, interactive discussion where different points of view were shared. Here we share with you a few key takeaways from the dynamic discussions.
Private sector is a crucial part of the whole for achieving UHC – Everyone has made use of health services or products provided by the private sector; from a doctor or nurse; from medicines or diagnostics; from insurance. One way or another, the private sector is part and parcel of UHC and its involvement is critical in delivering it. Pitting public versus private is an unhelpful discussion. At the WHO Partners Forum this past April, Dr Peter Salama, Executive Director for UHC at the WHO, suggested thinking about PPPs (public-private partnerships) in a new way – as "partnerships for shared outcomes." This framing encourages all stakeholders to be clearer on the goals, ensure interests are aligned, and that we move together in the same direction. With this spirit in mind, the shared responsibility of public, private, and other stakeholders in making UHC a reality is a sine qua non.
Healthcare financing must involve efficiency – Stefan Gijssels, Executive Director of Digestive Cancers Europe & EuropaColon, noted that in Europe the amount of money wasted every year in products and services ($US 300 billion) is more than the entire medicines budget. "It is easy to point the finger at drug pricing but much harder to examine in depth how to be more efficient," Gijssels concluded. Nelly Wakaba, Country Engagement and Support Director at Financing Alliance for Health, added that one area to explore further for efficiencies is supply chains: in one instance, health care providers were able to drive prices down for the procurement of certain commodities from $18 to $4–$5 by cutting out the middlemen. Susan Henshall, CEO of the Geneva-based City Cancer Challenge agreed, emphasising that there are inefficiencies across the entire health system. Thomas Cueni, Director General of the IFPMA, concluded that when procurement systems are ethical and efficient, significant waste and corruption can be avoided.
Data is critical – This was an issue raised by multiple panelists. Henshall emphasised that understanding data helps health ministries to make the right prioritisation decisions. Gijssels noted that cancer survival rates can vary drastically between hospitals in the same city, highlighting how better access to and use of data can inform the right clinical decisions. However, policymakers must also carefully consider who owns and collects the data, pointed out one member of the audience at the side event.
No one-size-fits-all approach to UHC – Several comments, including from members of the audience, noted that the source of healthcare financing should be predominantly public, as this is the "only" way to achieve UHC. In his closing remarks, Cueni stressed that decision-makers should be open to various models, tap a wider range of financial resources. Financial innovation should be explored, recognising that some health system models embrace important roles for private insurance, while for some countries, development assistance is still needed.
The Final Word – When asked for the three words to explain what they want to see in the UHC political declaration, the answer "put people first" by Henshall and Wakaba got a resounding applause from the audience!
Fumie Griego, Deputy Director General and Chief Operating Officer, IFPMA
Githinji Gitahi, CEO, AMREF Health Africa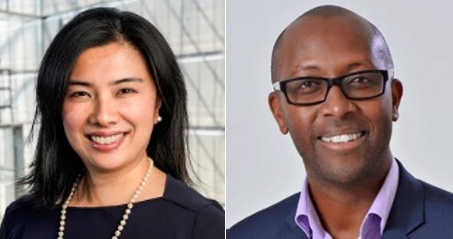 Authors

Githinji Gitahi
Share
Topics