IFPMA-IAPO Webinar: The African Medicines Agency – an important step towards increasing timely availability and access to medicinal products for patients in Africa
Location
Geneva, Switzerland
Attend
This event has now passed. To browse our upcoming events click here.
The vision for Africa, particularly in the post Covid-19 world, is that people in every corner of Africa, have timely access to safe, effective, quality medicines, vaccines, medical devices, diagnostics and technology.
The increased burden of infectious, neglected tropical, communicable and non-communicable disease is growing rapidly in Africa, coupled with the growing threat of antimicrobial resistance and pandemics.
All medicinal products require effective regulation and multi-disciplinary approaches from appropriate training and capacity building right through to manufacturing and regulatory agility, inspections, effective safety surveillance and ultimately timely access for patients. The key to optimising sustainability in the supply of medicinal and healthcare products for diseases disproportionately affecting Africa includes a fully established Africa Medicines Agency (AMA), and once the fifteenth country in Africa has ratified the Treaty, the AMA will come into existence.
It will foster regulatory system strengthening and reliance across Africa towards faster and expanded access to medicines, vaccines and biotherapeutics for patients. AMA will coordinate existing regulatory harmonisation efforts in the region and provide regulatory guidance, scientific opinions and a common framework.
Watch the Webinar here
Speakers
Delese Mimi Darko Chief Executive Officer, Ghana Food and Drugs Authority
Mrs. Delese Mimi Darko graduated with a Bachelor of Pharmacy from the KNUST and a postgraduate Masters degree in Business Administration from the University of Northampton. Her 28 year carrier encompasses the regulation of food and drugs including clinical trials regulation, marketing authorization and post approval safety monitoring of medicines and (allopathic and herbal) cosmetics, household chemicals and medical devices.
She has risen through the ranks of the Food and Drugs Authority (FDA) to become the first female Chief Executive Officer in 2017.
The FDA process of designation by the NEPAD/African Medicines Regulation Harmonization (AMRH) as a Regional Centers of Regulatory Excellence was led by her in 3 very critical areas, namely, Medicines Safety (pharmacovigilance), Clinical Trials and Drug Registration. During her service she contributed to the growth of research and of the local manufacturing industries in Ghana
Mimi Chairs the WHO African Vaccines Regulatory Forum (AVAREF) and serves on several international and local advisory committees and bodies including the CIOMS Vaccine Safety Working Group, The WHO Scientific Advisory Group for the Blueprint on Research and Development Preparedness, CEPI SAC, Brighton Collaboration SB, Medicines for Malaria Venture (MMV) Expert Scientific Advisory Committee (ESAC), The Steering Committee for West African Medicines Regulatory Harmonization project and The Steering Committee for Medical Products Regulatory Systems Strengthening and Harmonization Initiatives in Africa.
She has received several awards for her exemplary and commendable work. Notable amongst them are the United Nations (UN) Inter-Agency Task Force (UNIATF) award on the Prevention and Control of Non-Communicable Diseases in New York, the GLiTZ Africa's award for Ghana Women of the Year Honours 2019 (Excellence in Health) Ghana Business Standard Awards for the Female Business Leader of the Year 2019 and the Advertising Association of Ghana Special Recognition award for her role in regulating the advertisement of FDA regulated products.
Mimi is a devout Christian and is married with two children.
Hiiti B. Sillo Team Lead, Regulation and Safety Unit (REG), WHO Department of Regulation and Prequalification (RPQ)
Mr Hiiti B. Sillo is a Team Lead, Regulatory Systems Strengthening Team (RSS), within the Regulation and Safety Unit (REG), in the WHO Department of Regulation and Prequalification (RPQ). The RSS Team is responsible for coordinating WHO strategies for the strengthening of national regulatory systems through undertaking benchmarking of national regulatory authorities (NRAs) to document the maturity status of regulatory systems using the WHO global benchmarking tool (GBT), according to defined priorities. Before joining WHO in January 2018, he was the Director General of the Tanzania Food and Drugs Authority (TFDA).
Mr Sillo has wide experience in the regulation of medical products at the national, regional and international levels. He championed and chaired the East Africa Community (EAC) Medicines Regulatory Harmonization Programme (2012-2017), a show-case programme of the African Medicines Regulatory Harmonization (AMRH) Initiative, interim chair of the African Vaccines Regulatory Forum (AVAREF) Steering Committee (2017), vice chair of the WHO Member State Mechanism on Substandard and Falsified Medical Products Steering Committee (2016-2017) and in 2017 as WHO nominee (main member) to the Uppsala Monitoring Centre (UMC) Board. He was the member of the Task Team on the establishment of the African Medicines Agency (2014 – 2017).
Mr Sillo is a Pharmacist, with MSc. in Pharmaceutical Services and Medicines Control (UK). He started his carrier as a Drug Registration Officer with the Pharmacy Board of Tanzania in 2000 which later transformed into TFDA in 2003. He held several technical and managerial positions in TFDA including a Quality Manager, Director of Medicines and Cosmetics Control and the Director General of TFDA from May 2010 to January 2018.
Margareth Ndomondo-Sigonda Head of Health Programs: AUDA-NEPAD
Margareth Ndomondo-Sigonda, M.Sc., M.B.A., is Pharmaceutical Coordinator, African Union-NEPAD Planning and Coordinating Agency. Ms. Ndomondo-Sigonda served as Director General of the Tanzania Food and Drugs Authority for 7 years and Registrar of the Tanzanian Pharmacy Board for 5 years before that. She has been involved in medicines regulation harmonization initiatives in Southern Africa Development Community and EAC. She has consulted for WHO on assessment of medicines regulatory systems in Sudan, Egypt, Kenya, Zambia, CARICOM member states, and the Dominican Republic. Ms. Ndomondo-Sigonda has also been a consultant for assessment of medicines regulatory systems in Zambia, Sudan, Egypt, and Kenya. She now works as a Pharmaceutical Coordinator for the African Union-NEPAD. Ms. Ndomondo-Sigonda is responsible for coordinating the pharmaceutical development programs, including the AMRH initiative. She holds a master's degree in pharmaceutical services from University of Bradford in the United Kingdom, an M.B.A. from Maastricht School of Management in the Netherlands, and a bachelor's degree in pharmacy from the University of Dar es Salaam.
Karim Bendhaou IFPMA AEC Chair
Dr. Karim Bendhaou (MD MBA) has served as President of North and West Africa
operations (40 countries of Africa) for Merck for over 18 years till September 2018
and since then he heads the Africa Bureau and coordinates all of Merck's corporate,
strategic and executive decisions in Africa
A real pioneer, he has been working in the pharmaceutical industry for almost 22
years, building up strong pan African organizations, gaining extensive experience
in biotech medicines and biosimilars, and leading a successful enterprise all the
while keeping the patient in mind and increasing the commitment of the
organization to the UNDG and to high ethical values.
Passionate about Africa, he is highly committed to driving the continent forward
helping, through public private partnerships, to lead the improvement of
healthcare with a focus on Digital Technology and adoption of innovative ideas.
Through the various corporate social responsibility projects, he has worked
together with governments and non governmental organizations to assure access
to treatment.
He holds a Doctorate in Medicine from Algiers and Paris, and a Master's degree in
Business Administration.
Ellos Ellard Lodzeni Board Treasurer, IAPO
Ellos Ellard Lodzeni is based in Malawi. Ellos is a health rights, social justice and governance advocate as well as a patient for patient safety champion with an enormous passion on health matters. He is the patron and founder trustee of Patient and Community Welfare Foundation of Malawi, the only cross-disease patient movement in Malawi which articulates and amplifies the patient voice and drives the crusade for patient-centered health care in Malawi.
Catherine Fiankan-Bokonga Moderator
Catherine Fiankan-Bokonga is an engaged journalist who defends the freedom of expression and gender equality. She is founder and Chief-Editor of Swiss magazine, Klvin Mag, correspondent in Switzerland for France 24 (French International Tv channel) and for CGTN-Français (International Chinese channel in French language). She is vice-president of the Swiss Press Club (Club Suisse de la Presse). She is also a presenter and producer of television news reports.
A TV, radio and print journalist specialized in African politics and women issues, Catherine has been based in Geneva since 1999. She has covered many armed conflicts in Africa and hosted seminars with West African journalists to sensitize them to the duty of non-partisan information.
She is a regular speaker and moderator at high profile conferences on security, humanitarian relief, health care, trade, culture and women's issues. She has interviewed numerous World leaders.
She often collaborates with international Foundations or NGOs to promote peace, safety and international cooperation through education and training. She was elected vice-president of the Association of the Accredited Correspondents at UN Geneva (ACANU).
Catherine was born in Geneva (Switzerland) to a father from the Democratic Republic of Congo and a Belgian Flemish mother.
Kawaldip Sehmi Chief Executive Officer, IAPO
Kawaldip oversees the strategy and direction of IAPO. He joins with extensive public health experience at national and international level.
Kawaldip previously held the position of CEO at Richmond Psychosocial Foundation International and worked as Managing Director of Coram Children's Legal Centre. He has European and international public health experience as Director of the Global Health Inequalities Programme and as Chairman of the European Network of Quitlines.
Kawaldip's qualifications include an MSc in the Public Health International Programme from the London School of Hygiene and Tropical Medicine, an MBA in Business Administration from the London Business School and Open University, and an LLB (Hons) from the London College of Law.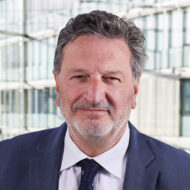 Greg Perry Assistant Director General, IFPMA
Greg Perry joined IFPMA on 1st February 2018, and has responsibility for IFPMA's external outreach and stakeholder engagement in global health topics including innovation, access, and the international regulatory environment. Greg Perry brought with him more than 20 years' leadership and advocacy experience in the public healthcare arena.
Prior to joining IFPMA, Greg worked as Executive Director of the Medicines Patent Pool, which he joined in 2013 and as Director General of the European Generic Medicines Association (1999 – 2013) in Brussels. Previously he worked as a partner in a UK public affairs company as a European Union policy advisor to corporate and non-governmental organizations, and before that as a Parliamentary Advisor to Members of the European Parliament. Greg is a Member of the Advisory Council of the Organization for Professionals in Regulatory Affairs (TOPRA) and is a former member of the Standing Advisory Committee before the European Patent Office (SACEPO). Greg also holds the Golden Cross of Merit of the Republic of Poland.