Women in Innovation: Providing leadership, creating solutions and driving change
Attend
This event has now passed. To browse our upcoming events click here.
Organized at #AHAIC2021 by International Federation of Pharmaceutical Manufacturers and Associations (IFPMA), the International Chamber of Commerce (ICC), the Global Innovation Policy Center (GIPC), and The Innovation Council.
Watch the event video.
Program
15:00-16:00 (CET)
Innovation is crucial to identifying solutions to achieve the UN sustainable development goals (SDGs). Implementation of the SDGs requires all stakeholders to play their part. Without the considerable and equal participation of women in policy-making, business and innovation it will be impossible to achieve the SDGs by 2030.
This International Women's Day, we are taking the opportunity to demystify the notion that women have a limited role in innovation. Through this event, we wish to mobilize and provoke change, and help advance women in the field of technology and science topics that we aim to further explore in a series of discussions through the year.
We will discuss with outstanding women their inspiration to venture into their field, how were they empowered and the challenges they faced. The role women can play and do play in innovation which may sometimes not be recognised. We also want to discuss how things can be made better for future innovators and leaders. The opportunities that the empowerment and strengthening of women as entrepreneurs and leaders entails. What challenges lie and policy gaps that still ahead of us to ensure participation of women in the economy across the world and how should we respond to them? How can businesswomen cooperate closer and how can we support each other best?
Speakers
Dr. Eva Wangechi Mubia Njenga Moderator
Dr. Eva Njenga, MBS, is a well-respected and world-renowned endocrinologist with a vast experience and knowledge in tropical medicine, Social Medicine and Medical Anthropology. She holds a MMed from the University of Nairobi, has a certificate in Endocrinology from the University of New Castle Upon Tyne-UK and is a Social Medicine and Medical Anthropology Fellow at Harvard University. She has been practicing medicine for over 30 years and has worked in several hospitals in the country offering specialized care in diabetes and endocrine conditions management. She has also been a lecturer at the University of Nairobi's School of Medicine for more than 10 years and continues to share her expertise with post-graduate students in various private university hospitals in the country. Dr. Njenga is the Founder Director of Diabetes Management and Information Centre; the Chairperson of the Kenya NCD Alliance and also the first female Chair of the Kenya Medical Practitioners and Dentists Council. She Co- Chairs the NCD Intersectoral Coordinating Committee, sits on the advisory Board of Diabetes Africa, is an advisor of the African Research Universities Alliance, and is a member of the Centre of Excellence in Non-Communicable Diseases, the Kenya Diabetes Study Group, Kenya Medical Association Kenya Association of Physicians among others. Dr. Njenga has played a critical role in the mitigation of the COVID-19 pandemic and is the Chairperson of the National Coordination Center for Isolation and Quarantine Facilities in the country. She is also the overall team leader of the Ministry of Health Technical Team for Mitigation of COVID19 Pandemic and strengthening of Health Systems for UHC in the 47 Counties in Kenya. She has been very instrumental in matters healthcare in the country, so much so that her exemplary work and commitment has seen her gain recognition and conferred State Honours by HE President Uhuru Kenyatta for her distinguished and outstanding services to the nation and was bestowed upon the title, Moran of the Order of the Burning Spear (MBS). Dr. Njenga cares very much about people's health and is a passionate NCDs champion.
Dr. Matshidiso Moeti WHO Regional Director for Africa
Dr Matshidiso Rebecca Moeti is the World Health Organization (WHO) Regional Director for Africa and the first woman to occupy this position. She was recently confirmed by the WHO Executive Board after her resounding re-lection for the second term. Over the past five years, Dr Moeti has led a Transformation Agenda that is widely acknowledged to have improved the performance and effectiveness of the Organization. She made tremendous progress through the Transformation Agenda, which include improved response capacity to health emergences like COVID-19 pandemic and Ebola virus outbreak. The flagship of the Transformation Agenda has been the successful eradication of wild polio virus in the African region. The Transformation Agenda has since been adopted to inform WHO global reforms.
Dr Moeti is a medical doctor and public health expert, with more than 40 years of national and international experience. She has worked with the WHO Regional Office for Africa, where she has held several senior positions, since 1999. Dr Moeti successfully led WHO's "3 by 5" Initiative in the African Region, which aimed to expand access to antiretroviral therapy in countries. Prior to joining WHO, Dr Moeti worked with UNAIDS as the Team Leader of the Africa and Middle East Desk in Geneva, with UNICEF as a Regional Advisor, and with Botswana's Ministry of Health in various capacities.
In recognition of her excellent service to humanity, Dr Moeti has received many accolades including an Honorary Fellowship from London School of Hygiene & Tropical Medicine, an Honorary Doctorate of Science from the University of Health and Allied Sciences in Ghana, Honoris Causa Doctorate by Instituto de Higiene e Medicina Tropical, Universidade NOVA de Lisboa, COVID-19 Heroine by Ellen Johnson Sirleaf President Center for Women and nominated Women of 2020, Financial Times. She is a great champion for women in leadership in global health.
Edna Adan Ismail Edna Adan Hospital's Founder
Edna Adan Ismail, founded the Edna Adan Hospital with the aim of improving women's health in a region with one of the highest maternal mortality rates in the world. Established as a maternity teaching hospital with a goal of training 1,000 midwives, over the past 19 years it has grown into a major referral institution for obstetrical, surgical, medical and paediatric patients who come from a wide geographical area in the Horn of Africa. With the opening of the Edna Adan University in 2011, the level of training has been raised and the programmes multiplied. Today, over 1,500 students are enrolled on courses in nursing, midwifery, medicine, pharmacology, laboratory technology, anaesthesia, dental technology and public health. As community midwife training has taken root, the programme has expanded from Hargeisa to other regional hospitals in Berbera, Gabiley and Erigavo.
In parallel to the founding of the hospital, in 2002 Edna embarked upon a career in politics and served fist as Minister of Social Affairs and Family Welfare in Somaliland and one year later as a stellar Foreign Minister from 2003-06. As the only female minister in the government at the time she used her position to raise the concerns and amplify the voice of women. Twitter: @EdnaAdan
Prof. Awa Marie Coll-Seck Member of the Academy of Sciences and Technologies of Senegal
Dr. Awa Marie Coll Seck works in the field of health and disease prevention in her native country and internationally. She was the Director of the UNAIDS Department for Policy, Strategy and Research from 1996-2001. From 2001-2003, she served as Minister of Health and Prevention of Senegal and From 2004-2011, back to Geneva Switzerland she was Executive Director of the Roll Back Malaria Partnership hosted by WHO. She was Minister of Health and Social Welfaire from 2012 to 2017. Dr. Coll Seck sits on a number of Boards and committees, including the High-Level Steering Group for Every Woman Every Child, Harvard Ministerial Leadership Program Advisory Board and Co-Chair of WHO-UNICEF-Lancet Commission on « the A future for the world's children » She is member of the Jury of the Noguchi Prize ( Japon) and of the jury of the ISA Award for Service to Humanity ( Bahrein) Dr. Coll Seck has been honoured with numerous professional and academic awards, and is the author of more than 150 scientific publications.
Theresa Mkandawire Registered Civil Engineer
Theresa Mkandawire is a Registered Civil Engineer with over 21 years' experience lecturing at University level specialising in water and sanitation. Additionally, she has managed a number of civil and building works as well as having designed and supervised several structural works.
She has also managed projects targeted at low-income countries for different development partners. She leads and works effectively in partnerships with other institutions and manages large donor financed projects.
Theresa has experience in monitoring, evaluation and reporting of project outputs and outcomes including influencing policy and practice. She has also been involved in climate change risk assessment for the Mpatamanga Hydropower project in Malawi.
She has held various positions in several public offices, including: Dean of Engineering, Secretary General of the Africa Engineering Deans Council, Council member for Mzuzu University, Senate Member for Malawi University of Science and Technology and first Vice President of the Malawi Institution of Engineers.
Sheila Alumo Managing Director, Eastern Agricultural Development Co. Ltd.
Sheila Alumo, Managing Director, Eastern Agricultural Development Co. Ltd.: Sheila Alumo is an ardent social entrepreneur, an Ashoka alumna, a lawyer by profession and a passionate advocate for progressive rural community development at grass root level.
She believes societies social problems especially youth and women unemployment, malnutrition, food insecurity, poverty among others could only be solved if the root causes are addressed.
Her holistic approach to solving communities' social problems led to the birth of EADC, a social enterprise that is working with close to 3000 small holder rural farmers in the far to reach areas of Uganda (Teso, Karamoja and Bugishu) with the sole objective of addressing the challenges of food insecurity, poverty and malnutrition.
She works at solving community's social problems through transforming the agri-eco system and shift in mindset of the community to view farming as a sustainable income creation venture through her model, "Farming as a business (FAAB)". This she does through offering ready market for smallholder farmers produce by integrating ICT solutions, and transitioning farmers from subsistence to commercialized farming of High Iron rich beans (HIB), Orange fleshed sweet potatoes (OFSP) and Food processing of bio-fortified foods rich in Vitamin A, Iron and Zinc
We aspire to nourish people's lives by offering a wide variety of convenient, high quality, healthy, nutritious and affordable food choices that cater to everyone's food needs
Our second overall goal is to be an impact driven company, contributing to the socio-economic development of rural smallholder farmers in the fight against malnutrition, hunger and poverty/low incomes
She further aspire to be a champion for change for the young generation through progressive sustainable development of women and youth social entrepreneurs in agriculture.
Nicole Kayode CEO & Founder of Medixus
Nicole Kayode is the CEO & founder of Medixus; a mobile and web based application connecting healthcare workers with healthcare workers in real time – to collaborate on patient cases. Medixus acts as a one-stop shop for data aggregation, patient handover and case collaboration among healthcare professionals – ultimately driving improved patient care for all patients, regardless of income by upskilling frontline clinicians. To date Medixus boasts a community of over 1500 medical professionals on the platform and has facilitated over 1000 patient handovers.
Nicole has a background in medical research and a career working in tech startups in both commercial & product development roles. Medixus is the product of combining her background, with her dedication to improving healthcare systems, and belief that communication is the key to driving change.
Ruhi Suttarwala Entrepreneur
Developed a profitable online shop for various beauty products in Jumia and other major marketplaces; Awarded the best vendor in Jumia for 2017 Black Friday sales for best sales and operations. Expanded the business to manage various other brands in ecommerce working with distributors for Philips, Tefal, Condor, etc for content creation, marketing strategies, logistics and reporting – Registered 5x y-o-y growth for Beauty accounts and 10x growth for brand accounts with 90% reduction on order cancellation rate and 40% improvement in shipping TAT and store rating. Working with various Pan African initiatives with UNCTAD and Ecommerce Forum of Africa to develop e-commerce in Africa representing Kenyan SMEs.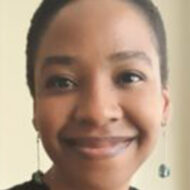 Desiree Joule-Adam Deputy Director of Communications & Development for the African Women's Entrepreneurship Cooperative (AWEC)
Desiree Joule-Adam is the Deputy Director of Communications & Development for the African Women's Entrepreneurship Cooperative (AWEC), a program hosted by the Center for Global Enterprise (CGE), New York. The program builds the capacity of female entrepreneurs to enable resilient business growth. The organization develops innovative, applied, and collaborative learning experiences that create immediate and long-term business impact for the hundreds of small- and mid-sized enterprises that are served across Africa.
A beneficiary of AWEC's flagship program, Desiree is also Founder & Director of Start-Up Africa, a boutique media communications and business development consultancy that supports Small & Medium Sized Enterprises (SMEs) across Africa.
With a background in business start-ups, media, telecommunication, education and youth empowerment, she is also passionate about facilitating project initiatives and opportunities to engage in Africa's development.
She holds a degree in Media and Business Applications from Birkbeck, University of London.