AMR Industry Alliance 2021 Progress Report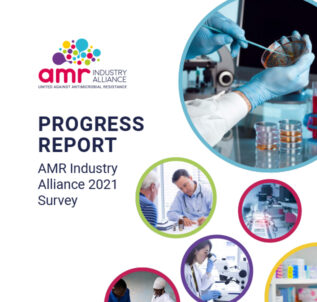 Antimicrobial resistance (AMR) is a threat we have known about for a long time, and it has been on the global agenda many years. In particular, the 2016 UN High-Level Meeting on Antimicrobial Resistance spurred many stakeholders into action, leading to the establishment of the UN Interagency Coordination Group on AMR that released its report three years ago.
Since then, the issue of AMR has been raised at every G7 or G20 meeting for the past six years. Many mechanisms and institutions dedicated to tackling the challenge of AMR now exist. Among them, the AMR Industry Alliance is the leading private-sector coalition working to tackle AMR, bringing together R&D pharmaceutical, generic, biotechnology and diagnostics companies together to drive industry progress. Since 2017, the Alliance has consistently documented its activities across several key action areas, demonstrating how its members focus on solutions and lead on AMR among the life-science industry. Captured every two years in our Progress Reports, these achievements provide an important snapshot of what the life science industry is – and could be – doing better to tackle the rise in antimicrobial resistance.
In our third Progress Report, Alliance members provide detailed data presenting valuable insights into industry progress on AMR and show some encouraging areas of progress and innovation. The Alliance's work focuses on four key action areas, with bold goals and commitments intended to drive progress and curb AMR. We aim to improve access to high quality antimicrobials, further investments in R&D, promote and support appropriate use and curtail environmental exposures associated with AMR. We are proud of the progress made to date and reassured by the ongoing commitments for future actions.
The Progress Report demonstrates that AMR Industry Alliance members remain committed to the fight against AMR, stepping up to access challenges and implementing appropriate use and stewardship activities – and in a challenging time dominated by COVID-19. Regarding access, four out of five (81%) surveyed member companies report being active in supporting access to AMR-relevant products and/or technologies. Likewise, 92% of our surveyed R&D pharmaceutical member companies, 89% of our surveyed generics member companies, and 80% of our surveyed diagnostics member companies have taken on appropriate use and stewardship activities.