Advancing innovative medicines discovery in Africa
Location
World Intellectual Property Organization (WIPO) 34, Chemin des Colombettes
CH-1211 Geneva 20, Switzerland
Attend
This event has now passed. To browse our upcoming events click here.
On the margins of the 63rd WIPO General Assembly, join us for this joint IFPMA-WIPO event on advancing innovative medicines discovery in Africa, featuring keynote speaker Professor Kelly Chibale, Founder and Director, H3D (Holistic Drug Discovery and Development Centre) and Chairman and CEO, H3D Foundation.
Health innovation is happening in Africa, but there is a greater need for capacity strengthening incentives for innovation and skills development to support drug discovery and development on the continent. In this regard, partnerships with established R&D biopharmaceutical companies will be key to co-create the innovation ecosystem we need to catalyze new funds and seed a thriving health innovation environment.
The Holistic Drug Discovery and Development Centre (H3D), based at the University of Cape Town, South Africa, is working both to develop necessary medicines optimised to treat African populations, and through the H3D Foundation, to leverage partnerships and networks to develop world-class talent across early- and mid-career scientists and innovators.
During this event, Prof Chibale will show how African scientists and initiatives are making medical innovation happen on the continent, how important it is to halt the brain drain by creating an absorptive local capacity to attract, develop, nurture, and retain young African talent on the continent, and the role of international collaborations to foster a stronger health and medical innovation ecosystem in Africa.
The event is open to all WIPO delegates and selected invited participants.
Speakers
Loretta Asiedu Moderator; Senior Counsellor, Regional Division for Africa, WIPO
Mrs. Loretta Asiedu is currently the Senior Counsellor at the WIPO Division for Africa. She is responsible for coordinating and undertaking IP related projects under WIPO Technical Assistance to WIPO African Member States.
Prior to joining the Regional Division for Africa in January 2015, she served as Senior Advisor in the Cabinet of the Director General of WIPO, from 2010 to December 2014.
From 1998 to 2001, she worked as Assistant State Attorney with the Ghana Ministry of Justice and Attorney General's Department. From 2002 to 2009, she worked with the Ghana Ministry of Foreign Affairs. During her career as a Diplomat, she was assigned to the Permanent Mission of Ghana to the United Nations and other international organizations in Geneva and Vienna and represented her country at negotiations in several UN Agencies including WIPO, WHO, the Human Rights Council, UNEP, UNIDO and the UNODC.
She is a Lawyer with a Masters' Degree in International Relations and a First Class Honours Bachelor's Degree in Law and Spanish.
Ambassador Athalia Molokomme Ambassador and Permanent Representative of Botswana to the UN
Dr. Athaliah Lesiba Molokomme is the Ambassador and Permanent Representative of Botswana to the UN and other international organizations, including the World Trade Organization (WTO) in Geneva; and Ambassador of Botswana to Switzerland.
Prior to her current position, she served for 11 years as the first female Attorney General of the Republic of Botswana, following a period as a Judge of the High Court of Botswana.
She holds a Bachelor of Laws degree from the University of Botswana and Swaziland, a Masters in Law from Yale Law School, and a PhD in Law from Leiden University. She also attained a Diploma in International Commercial Arbitration from the Chartered Institute of Arbitrators (CIARB) in London, and is a Fellow of the CIARB.
For over a decade, Dr Molokomme taught law at the University of Botswana, where she also authored a number of journal articles and book chapters. She is a founding member of a number of Women's Human Rights Organizations at national and regional level.
Dr Molokomme is the recipient of a number of honors and awards, including the Presidential Order of Meritorious Service for Exceptional service to Botswana. She has served on a number of international boards and is currently a member of the Nuremberg Advisory Council; Justice Rapid Response and the International Gender Champions Global Board.
In Geneva, Ambassador Molokomme is very active in the multilateral discussions and fora in the various agencies, by making presentations, acting as discussant and moderator on issues including human rights, health, trade, and gender among others.
She is the 2022 Chairperson of the WTO Dispute Settlement Body and co-Chair (with Iceland and El Salvador) of the Informal Working Group on Women and Trade.
Kelly Chibale Founder and Director, H3D; Chairman and CEO, H3D Foundation
Kelly Chibale is a full Professor of Organic Chemistry at the University of Cape Town (UCT) where he holds the Neville Isdell Chair in African-centric Drug Discovery & Development.
He is also a Full Member of the UCT Institute of Infectious Disease & Molecular Medicine, a Tier 1 South Africa Research Chair in Drug Discovery, founding Director of the South African Medical Research Council (SAMRC) Drug Discovery & Development Research Unit at UCT, the Founder and Director of the UCT Drug Discovery and Development Centre (H3D) and the Chairman and CEO of the H3D Foundation.
Kelly obtained his PhD in Synthetic Organic Chemistry from the University of Cambridge in the UK (1989-1992). This was followed by postdoctoral stints at the University of Liverpool in the UK (1992-94) and at the Scripps Research Institute in the USA (1994-96). He was a Sandler Sabbatical Fellow at the University of California San Francisco (2002), a US Fulbright Senior Research Scholar at the University of Pennsylvania School of Medicine (2008) and a Visiting Professor at Pfizer in the UK (2008).
Kelly was named by Fortune magazine as one of the World's 50 Greatest Leaders in 2018 and by New African magazine as one of the 100 Most Influential Africans in 2019. In 2021 he was named as one of the 22 black biotech leaders in honour of Juneteenth in the USA on a list published by the Timmerman Report, which celebrates innovative black leaders who are change-makers in their respective fields. He was recently named (May 2022) as one of the 25 standout voices in African public health by Harvard University's Public Health magazine.
His research is in global health infectious disease drug discovery against malaria, tuberculosis and antimicrobial resistance.
Edward Kwakwa Assistant Director General, Global Challenges and Partnerships Sector, WIPO
Edward Kwakwa is Assistant Director General, Global Challenges and Partnerships Sector, World Intellectual Property Organization (WIPO) in Geneva. He served as General Counsel at WIPO from 2004 until September 2016. Kwakwa holds an LL.B. degree from the University of Ghana, an LL.M. from Queen's University in Canada, and an LL.M. and a J.S.D. from Yale Law School in the U.S.A.
Before joining WIPO, Kwakwa practiced with the law firm of O'Melveny and Myers in Washington, D.C., worked as International Legal Adviser at the Commission on Global Governance in Geneva, as Senior Legal Adviser at the Office of the United Nations High Commissioner for Refugees (UNHCR), and as Legal Affairs Officer at the World Trade Organization (WTO).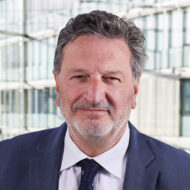 Greg Perry Assistant Director General, IFPMA
Greg Perry joined IFPMA in 2018 and has responsibility for IFPMA's external outreach and stakeholder engagement in global health topics including innovation, access, and the international regulatory environment.
Prior to joining IFPMA, Greg worked as Executive Director of the Medicines Patent Pool, and as Director General of the European Generic Medicines Association in Brussels.
Previously, he worked as a partner in a UK public affairs company as a European Union policy advisor to corporate and NGOs, and before that as a Parliamentary Advisor to EU Parliament members. Greg is a Member of the Advisory Council of the Organization for Professionals in Regulatory Affairs (TOPRA) and is a former member of the Standing Advisory Committee before the European Patent Office (SACEPO).
Greg also holds the Golden Cross of Merit of the Republic of Poland.