Africa Young Innovators for Health Award Official Ceremony
Hosts
IFPMA, Speak Up Africa
Attend
This event has now passed. To browse our upcoming events click here.
Today's changemakers, innovators, and leaders of tomorrow, African Youth have shown their potential in solving pressing healthcare challenges in their communities, even in the face of an unprecedented global pandemic.
The Award is The International Federation of Pharmaceutical Manufacturers & Associations (IFPMA) and Speak Up Africa (SUA)'s flagship program celebrating the pioneering young entrepreneurs whose work advances health across the region by helping Award winners bring their innovations to life.
The Award focuses on supporting young innovators develop their business ideas and advance promising solutions to support, equip, protect, and train healthcare workers who have been working tirelessly to protect and treat the public amidst the COVID-19 pandemic.
This is done through $75,000 in financial support across the three winners, a business mentorship programme, media training, expert advice on IP protection, where relevant, as well as access to a network of supporters and partners working across digital, healthcare, and media.
The three Award winners will be revealed live at the Award Ceremony, where health leaders, innovators, and entrepreneurs will gather online to highlight the important role innovation, especially amongst young people in Africa, plays in tackling some of the most pressing healthcare challenges on the continent.
Related links
Program
9.30 GMT
Introduction video
Welcome and introduction from Elizabeth Ntonijra, Global Director of Communications, Amref Health Africa.
Official opening remarks from Prof. Awa Marie Coll-Seck, Minister of State of Senegal, Chair of the scientific committee for the Galien Forum Africa.
Speakers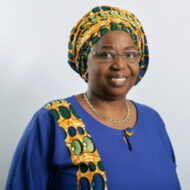 Professor Awa Marie Coll-Seck, Minister of State of Senegal, and Jury Member
Professor Awa Marie Coll-Seck is currently Minister of State of Senegal after serving for 5 years as Minister of Health and Social welfare.
She is the Chair of the scientific committee for the Galien Forum Africa. She has served on multiple Boards of Directors including the RBM Partnership to End Malaria, the Clinton Health Access initiative and the Bill & Melinda Gates Foundation Malaria Strategic Advisory panel. She is also the co-chair of the WHO-UNICEF Commission on Child Health and Wellbeing.
She has been awarded numerous professional and academic honors and is an honorary member of the Academy of Sciences and Technologies of Senegal and the author of more than 150 scientific publications.
Thomas B. Cueni, Director General, IFPMA
Thomas Cueni is Director General of IFPMA, the global association of pharmaceutical research companies, based in Geneva and is Secretary of the global Biopharmaceutical CEO Roundtable (BCR).
In this capacity, Thomas Cueni was instrumental in creating the AMR Action Fund, a collective venture, launched in July 2020, to bridge the current gap in funding for the development of new antibiotics.
Thomas Cueni represents the innovative biopharmaceutical industry on the ACT Accelerator, the Access to COVID-19 Tools (ACT) Accelerator, a unique global collaboration to accelerate development, production, and equitable access to COVID-19 tests, treatments, and vaccines.
Thomas Cueni is Chair of the Business at OECD Health Committee, and also serves on the Board of Directors of the City Cancer Challenge (CCan), an initiative aiming to improve cancer care in major cities in low- and middle-income countries. Prior to joining IFPMA, he was Secretary General of Interpharma, the association of pharmaceutical research companies in Switzerland, and for many years was a member of the Board and Chair of a key committee of the EFPIA.
He studied at the University of Basel, the London School of Economics, and the Geneva Graduate Institute for International Studies, and has master degrees in economics (University of Basel) and politics (London School of Economics).
Yacine Djibo, Founder & Executive Director, Speak Up Africa
Yacine Djibo founded Speak Up Africa in 2011 with one goal in mind: to discover and implement effective, sustainable solutions to the most challenging problems facing the African people.
Focusing on strategic communications, policy, and advocacy, Speak Up Africa is dedicated to empowering African leaders and citizens to take on issues such as malaria, neglected tropical diseases, and sanitation in order to save and improve lives.
Previously, Yacine worked as the Senegal country director for Malaria No More, where she developed and managed several high-profile national programs to promote malaria prevention and treatment. She built and maintained relationships with national and local government officials; designed and oversaw the distribution of lifesaving commodities countrywide; and cultivated partnerships with private-sector companies, media outlets, musicians, and celebrities to develop marketing programs that raise awareness about malaria.
Prior to devoting her career to the health and well-being of children and families in Africa, Yacine honed her skills in the areas of business administration, finance and real estate at several private-sector companies, including Intercontinental Life Insurance Company, where she served as managing director; SAGEF Construction and Real Estate Development Company, where she was director of sales; and Fidelity Investments, where she served as a business analyst.
Yacine earned her bachelor's degree in international relations and her MBA from Boston University.
Dr. Lindiwe Makubalo, Assistant Regional Director, WHO AFRO
Dr Makubalo is a public health expert who served in the South African public service for over 20 years and led initiatives to advance equitable health access for all. She has occupied senior positions in programme development and implementation as well as policy and legislative reforms.
She has rich experience in disease surveillance and data management systems as well as research and innovation management related to tropical diseases and HIV.
She previously served at WHO HQ, as Director of the Alliance for Health Policy and Systems Research, as well as a sabbatical position in the Special Programme for Research and Development in Tropical Diseases. Dr Makubalo has served on numerous scientific and advisory boards, bodies and groups such as the South African Medicines Control Council, national ethics councils, several data systems boards, expert group on Oncocerciasis Control, Strategic advisory group on malaria eradication, and as African representative on the UNITAID Board.
Most recently she held a diplomatic role as Minister, Health Expert for the South African Government to the United Nations in Geneva where she participated and led development of important policy and resolutions such as the NCD indicators monitoring and Ebola resolutions as chair along with other important activities to strengthen global policy for SDGs and health emergencies.