Build Back Better: Health Security beyond COVID-19
Attend
This event has now passed. To browse our upcoming events click here.
Program
12:10pm-1:10pm CET / 1:10pm-2:10pm SAST / 2:10pm-3.10pm EAT
The COVID-19 pandemic has revealed how glaring gaps in health security and health systems preparedness can fail to prevent the spread of disease outbreaks. To ensure Africa does not have to face the crippling effects of another pandemic, we need a well-planned and integrated response to improving health security and building healthy societies. This plenary will discuss the state of health security (what is Africa's plan? What needs to be included in Africa's plan? Who are the key players?); discussion will also focus on the urgent, concrete actions that African governments need to take so that we are better prepared for future pandemics.
Speakers
Dr. Matshidiso Moeti WHO Regional Director for Africa
Dr Matshidiso Rebecca Moeti is the World Health Organization (WHO) Regional Director for Africa and the first woman to occupy this position. She was recently confirmed by the WHO Executive Board after her resounding re-lection for the second term. Over the past five years, Dr Moeti has led a Transformation Agenda that is widely acknowledged to have improved the performance and effectiveness of the Organization. She made tremendous progress through the Transformation Agenda, which include improved response capacity to health emergences like COVID-19 pandemic and Ebola virus outbreak. The flagship of the Transformation Agenda has been the successful eradication of wild polio virus in the African region. The Transformation Agenda has since been adopted to inform WHO global reforms.
Dr Moeti is a medical doctor and public health expert, with more than 40 years of national and international experience. She has worked with the WHO Regional Office for Africa, where she has held several senior positions, since 1999. Dr Moeti successfully led WHO's "3 by 5" Initiative in the African Region, which aimed to expand access to antiretroviral therapy in countries. Prior to joining WHO, Dr Moeti worked with UNAIDS as the Team Leader of the Africa and Middle East Desk in Geneva, with UNICEF as a Regional Advisor, and with Botswana's Ministry of Health in various capacities.
In recognition of her excellent service to humanity, Dr Moeti has received many accolades including an Honorary Fellowship from London School of Hygiene & Tropical Medicine, an Honorary Doctorate of Science from the University of Health and Allied Sciences in Ghana, Honoris Causa Doctorate by Instituto de Higiene e Medicina Tropical, Universidade NOVA de Lisboa, COVID-19 Heroine by Ellen Johnson Sirleaf President Center for Women and nominated Women of 2020, Financial Times. She is a great champion for women in leadership in global health.
Dr. John Nkengasong, MSc, PhD Director, Africa Centres for Disease Control and Prevention (CDC)
Dr. Nkengasong is the Director of the Africa Centers for Disease Control and Prevention. Prior to his current position, he served as the acting Deputy Principal Director of the Center for Global Health, United States Centers for Disease Control and Prevention (U.S. CDC), and Chief of the International Laboratory Branch, Division of Global HIV and TB., U.S CDC.
He has received numerous awards for his work including the Sheppard Award, the William Watson Medal of Excellence, the highest recognition awarded by CDC and a recipient of the Knight of Honour Medal by the Government of Cote d'Ivoire for his significant contributions to public health. He is an adjunct professor at the Emory School of Public Health, Emory University, Atlanta, GA and serves on several international advisory boards including the Coalition for Epidemic Preparedness Initiative – CEPI, the International AIDS Vaccine Initiative (IAVI) among others.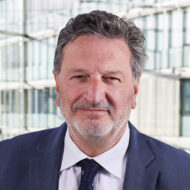 Greg Perry Assistant Director General, International Federation of Pharmaceutical Manufacturers and Association (IFPMA)
Greg Perry is the Assistant Director General at the International Federation of Pharmaceutical Manufacturers and Association (IFPMA). He has responsibility for IFPMA's external outreach and stakeholder engagement in global health topics including innovation, access, and the international regulatory environment. Greg Perry brought with him more than 20 years' leadership and advocacy experience in the public healthcare arena.
Prior to joining IFPMA, Greg worked as Executive Director of the Medicines Patent Pool, which he joined in 2013 and as Director General of the European Generic Medicines Association (1999 – 2013) in Brussels. Previously he worked as a partner in a UK public affairs company as a European Union policy advisor to corporate and non-governmental organizations, and before that as a Parliamentary Advisor to Members of the European Parliament.
Greg is a Member of the Advisory Council of the Organization for Professionals in Regulatory Affairs (TOPRA) and is a former member of the Standing Advisory Committee before the European Patent Office (SACEPO). Greg also holds the Golden Cross of Merit of the Republic of Poland.
Martin Fitchet, M.D Head of Global Public Health, Johnson & Johnson
Martin Fitchet, M.D., is Head of Global Public Health (GPH) at Johnson & Johnson where he leads an organization fully dedicated to addressing some of the highest unmet needs and healthcare challenges facing the world's most vulnerable and underserved people. Martin brings more than 20 years of experience as a proven research and development (R&D) leader with a focus on accelerating development and access to transformational innovation for those in low- and middle-income countries through an end-to-end approach. Under his leadership, the GPH team combines R&D, global access strategies and programs, and local operations to advance the critical solutions that save lives, cure patients and prevent disease for those impacted by tuberculosis, HIV, mental illness and other public health challenges.
Martin has held numerous leadership positions across Johnson & Johnson leveraging leadership and vision in R&D across therapeutic areas. Prior to joining Johnson & Johnson, he held scientific leadership positions in Medical Affairs and Research & Development in metabolism and diabetes for Sanofi Aventis and Novartis.
Dr. Thandeka Ngcobo Medical Doctor; Executive Board Member, Godisanang Youth Empowering Foundation; Corporate Affairs Officer, Ngcobo Empire
Dr. Thandeka Ngcobo is a charismatic young medical doctor from KwaZulu Natal, South Africa, who beat the odds and continues to bloom wherever she is planted. She is registered with the Health Professions Council of South Africa (HPCSA) as an Independent Medical Practitioner and currently practices as a Medical Officer at Rietvlei District Hospital. She completed her matric at the age of 17 and went on to pursue her medical studies at the University of KwaZulu Natal where she graduated with a Bachelor of Medicine & Bachelor of Surgery.
When she isn't treating patients she serves as the Corporate Affairs officer at Ngcobo Empire; an Afrocentric multimedia company. Her latest business venture is the acquisition of Maguya Steel (Pty) Ltd; A steel manufacturing company, in which she is the majority shareholder. The company aims to recruit more women into the construction industry.
Dr Ngcobo is also a board member of the Godisanang Youth Empowering Foundation, an NPO helping to develop various rural communities and empower other young people. Having been a teenage mother herself she remains vocal about issues of teenage pregnancy and preparations to launch her very own Non-Profit Organization are underway.
She is one of the 2018 Top 100 Young Leaders from the SADC region and 2018 Mail & Guardian Top 200 Young South Africans who are inspiring change and greatness.